Price Save 11% from $78.61 to $69.99
Our store offers Wheeler 72-piece Gunsmithing Screwdriver Kit 776737 at a discount price. We are an Authorized US Distributor for Wheeler Gunsmithing Supplies. All Gunsmithing Supplies by Wheeler Engineering from our online store comes with Full Manufacturer Warranty.
Screwdrivers are the most important and most-used gunsmithing tools. Wheeler 72-piece Gunsmithing Screwdriver Kit 776737 is the kit that belongs on every gunsmithing bench - the well thought-out bit selection will put an end to burred, buggered, busted up screw slots on any gun that comes your way. The bits make up the heart of any screwdriver set, and Wheeler Engineering's are the finest available. They're made from S2 tool steel and hardened to 56-58 Rockwell "C." Unlike other screwdriver suppliers, Wheeler Engineering's engineers measured the screws on over one hundred modern and antique firearms to make sure bits for every situation were offered.
Whether you're working on a Browning Superposed, a Remington 700, a Smith & Wesson revolver, or a Colt Single Action, you'll find that there's a bit to fit every screw on your gun. The 54 Hollowground flat bits range in size from .120"x.020" to .360"x.070", and includes doubles in the thinnest sizes. (Any gunsmith will tell you that you're occasionally going to break the ultra-thin bits on stubborn screws. This set includes two each of the very thinnest bits, which means you'll never be stuck in the middle of a job without the proper bit.) Wheeler 72-piece Screw driver Gunsmithing Set also includes a complete selection of Phillips, Allen, and Torx bits to cover scope rings, bases, recoil pads, and the like. The set comes with two handles made from comfortable overmolded plastic; the first is a regular size handle that's good for most jobs, and the second is a slimmer, shorter "Close Quarters" handle that is good for finesse work with smaller bits. Gunsmithing 72 piece Screw driver Set 776737 by Wheeler also come in a durable custom box that's ready for the bench or your range kit.
A full line of Wheeler Gunsmithing Supplies are also available from our store. For a complete selection of products by Wheeler Engineering on sale please visit Wheeler Engineering page on our website. For more brand name Gunsmithing Supplies please visit our Gunsmithing Supplies store section.
Package Contents:
Wheeler 72-piece Gunsmithing Screwdriver Kit 776737
Wheeler 72-piece Gunsmithing Screwdriver Kit 776737 and other products by Wheeler Engineering belong to Battenfeld Technologies family. All the brands by Battenfeld - Wheeler Engineering, Wheeler Engineering, Wheeler Engineering, Wheeler Engineering, Wheeler Engineering, Wheeler Engineering - are on sale and available from our on-line store. Battenfeld Technologies features such products as Gunsmith and Reloading Equipment, Hearing Protection, Gun Cleaning Kits, Shooting Glasses, Shooting Gloves, and other Shooting Accessories
---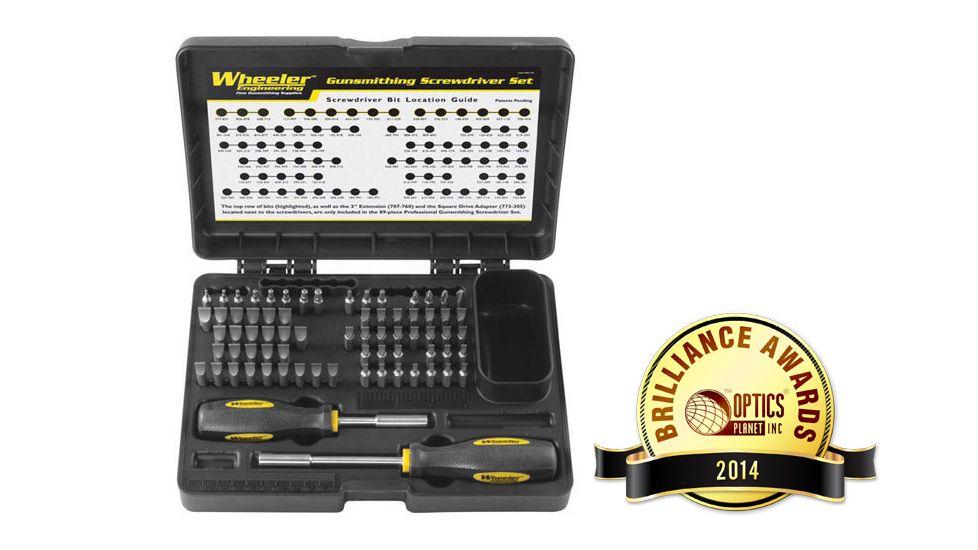 Wheeler 72-piece Gunsmithing Screwdriver Kit 776737
RATING
91 /100
Design

Excellent

Performance

Excellent

Value for money

Excellent

Feature

Excellent