Laser Genetics ND3X40 Long Distance Laser Designator features a new 40mm lens and is part of the newest precision optical lighting instruments using advanced green laser technology. This Laser Genetics laser sight is an uparalleled source of illumination for night hunting, fishing, marine and rescue operations. The Laser Genetics ND3x40 Illuminator is built around a patented Rotary Optical Collimator that allows full adjustment and control of the laser beam diameter and intensity, to focus light where you need it most. Rotating the collimator provides enough illumination to light a trail at night or paint a target up to 400 yards away. Two CR123 3V batteries let the Laser Genetics ND-3x40 Laser Illuminator provide over 7 hours of continuous use. This Laser Genetics laser scope uses patented technology to create true Green Laser Sights and turns your scoped rifle into a night hunter. More than just a laser scope, the LG-ND3X40 Laser Illuminator can be paired with your Green Laser Sights to fully illuminate targets up to 400 yards. The patented optical collimator allows for quick, one hand, full range adjustment of beam diameter and light strength with just 180 degrees of rotation. You never have to take your eyes off the target, or your hand off the trigger. The 40mm diameter lens of the Laser Genetics ND3x40 Laser Flashlight has a more powerful output that is 65% brighter than the original ND-3 at 100 yards, and locates targets up to 400 yards away.
The Laser Genetics ND Series of Laser Designators features low energy use and high illumination yield, enabling you to focus full illumination where you need it, with the least loss of light due to "flooding". The ND Series puts you in full control of directed laser light for maximum illumination of the intended object. The high power laser beam may be collimated down and concentrated to cast an intense, highly visible beam of light that can be seen miles away, useful for signaling or search and rescue operations. Or adjust the beam to 10ft to light a path for full night vision. Green light is the most visible to the human eye and requires the least amount of eye adjustment at night. High power green laser light reflects intensely off the eyes of animals allowing quick detection up to 250 yards.
Laser Genetics specializes in green laser sights, lights and scopes specific for outdoors, hunting, marine, emergency, and home defense use. Laser Genetics utilizes exclusive patented optical laser technology to develop the lighting instruments of the future for civilian and professional use. Founded in 2006, Laser Genetics is one of the nation's fastest growing manufacturers of personal-use laser lighting products. We bring you the full selection of Laser Genetics Laser Sights, backed by the best customer service and our 100% satisfaction guarantee.
---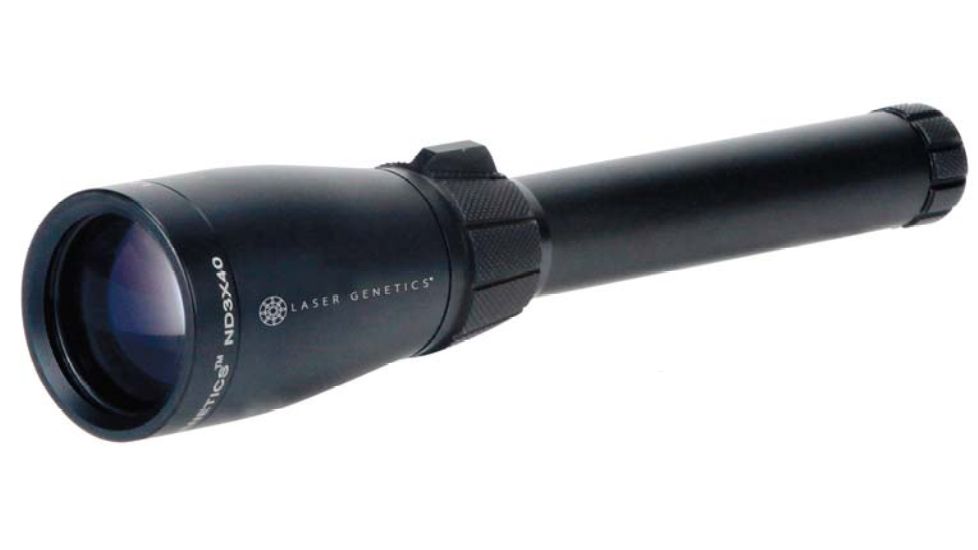 Laser Genetics ND3X40 40mm Laser Designator / Illuminator w/ Scope Mount
RATING
90 /100
Design

Excellent

Performance

Excellent

Value for money

Excellent

Feature

Excellent
Specifications for Laser Genetics ND-3X40 Laser Designator Compact Laser Sight:
| | |
| --- | --- |
| Length: | 9.45in L x 2in Dia. |
| Construction: | Precision Machined High Tech Aluminum |
| Finish: | Anodized Matte Black |
| Tube Size: | 1in (adapts to many mounting systems) |
| Wavelength (Color): | 532nm (green) |
| Beam Range: | Up to 3 miles |
| Power Supply: | Two lithium CR123A batteries (included) |
| Battery Life: | Up to 7 hours |
| Output Power: | 30 mW |
| Lens Diameter: | 40mm |
| Weight: | 20.64 oz. |
| FDA Safety Class: | Class 2M |
| Water Resistant: | Yes |
Features of Laser Genetics Green Laser Designator LG-ND3X40:
Precision machined from high tech aluminum
Black matte anodized finish
Fully O-Ring sealed for dust and water
Fully Multi-Coated optical lens system
Nitrogen charged for anti-fog
1" Tube adapts to multiple mounting systems
Rotary optical beam collimator - allows quick adjustment of beam diameter and intensity
532nm (Green) Laser light frequency - easiest light for the human eye to see (See Chart)
Amplified coherent light - most efficient light for long distance illumination
1 Year warranty
FDA Safety Class: 2M Laser Product - 30mW 532nm CW - Certified to IEC 60825-1 Ed 2, 2007-03
Complies with FDA performance standards for laser products except for deviations pursuant to Laser Notice No. 50, dated June 24, 2007
---
---